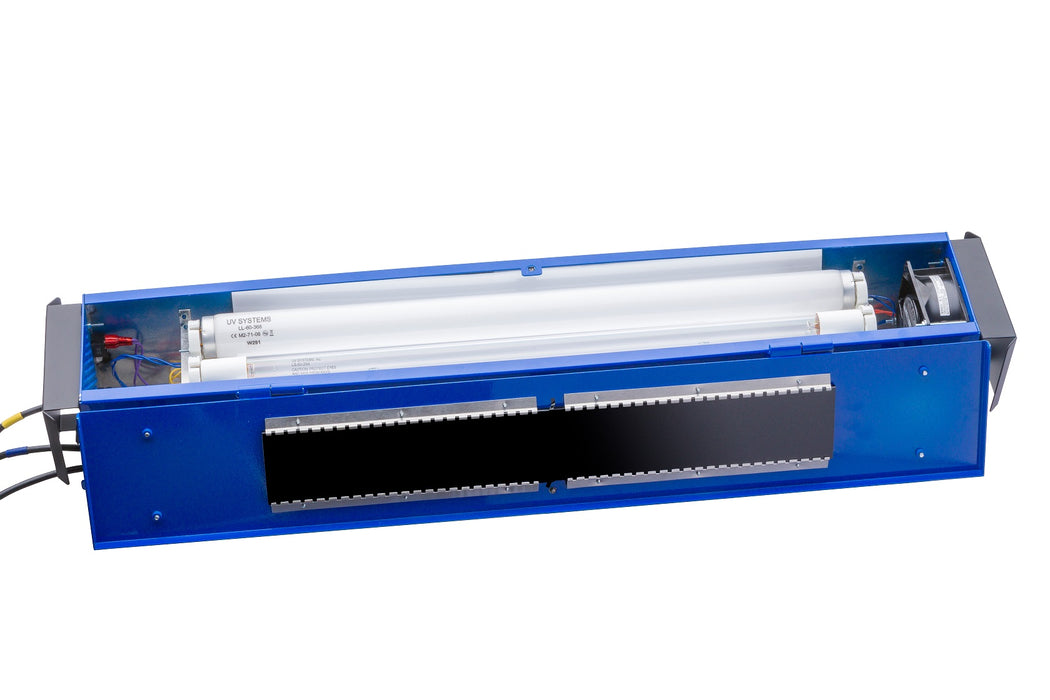 Dual TripleBright 3 DFSLS68 with one SW and one LW370 lamp
Original price
$2,397.00
-
Original price
$2,397.00
The model DFSLS68 is a UV light specifically designed for fluorescent applications where you need two UV wavelengths in one light assembly.  DFSLS68 stands for Dual Filter Short wave Lamp Short wave and lamp LW370 at 368 nm.  The DFSLS68 has two lamps (bulbs) one a SW with a peak at 254 nm and one a LW370 with a peak at about 368 nm.  Each lamp can be turned "on" and "off" independently.  There are 13 different models of Dual TripleBright 3's available depending on which lamp and UV filter combination are used, not all models are listed in the web site.  For more information please call or email.

This Dual TripleBright 3 is specifically designed for fluorescent mineral displays with special features such as its patented circuits (US patents 6,479,947 and 6,838,837) that allows both lamps to be turned "on" and "off" millions and millions of times without affecting the life of that lamp.  The cover is designed so that it can be opened once it is mounted inside the display case.  Loosen the one captive bolt and the cover will swing open.  The cover is held on by slip hinges so by sliding the cover lengthwise the pins come out of the hinges and the cover can be easily removed to replace the filters if necessary.  Most other manufactures of UV display lights have sheet metal screws that have to be removed around the periphery of the cover and you cannot get to the back of the UV light when it is mounted in a display.  The Dual TripleBright 3 also has a fan to maintain the optimum lamp operating temperature for maximum UV output.
Specifications
This Dual TripleBright 3 light has a SW custom designed High Output (HO) quartz lamp (LS-60-254) and a LW370 custom designed High Output (HO) lamp (LL-60-368) that comes with the light.  Both the LS-60-254 and LL-60-368 lamps have a special coating on the inside of the tubing that resists the mercury from penetrating the bulb wall.  The special coating allows for long lamp life with minimum UV reduction as the lamps age.  The Dual TripleBright 3 comes with two SW Hoya Optics U-325C filters which have the least amount of solarization of any SW filter made.  The model DFSLS68 uses two SW FS-60 filters so if one breaks you do not have to replace both filters.  The Dual TripleBright 3 uses two 120VAC electronic ballasts that drives the lamps at about 43 KHz for more efficient lamp operation.  The light has two custom designed filament transformers that heat the lamps filaments up before it is turned "on" allowing millions and millions of lamp "on-off" cycles.  The large aluminum reflector is specially selected from aluminum rolls to have high UV reflection.